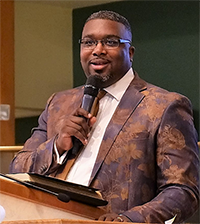 Rev. Hodari Kenneth Hamilton was born in Sacramento, CA to Kenneth and June P. Hamilton. As early as he can remember, he knew he was called to preach. By the time he reached 16 years old, he was licensed to preach and was on staff in his hometown at the St. John Baptist Church. He served under the tutelage of Pastor Dr. William E. Heights.
Rev. Hamilton was called as the ninth Senior Pastor of the Shiloh Baptist Church in Plainfield, New Jersey where he began his new life service in Ministry March 1, 2017. Pastor Hamilton's heart is encouraging people through the love and knowledge of Jesus Christ.
Prior to joining the ministry at Shiloh, Pastor Hamilton served as Pastor at the First Baptist Church in Charlottesville, VA. First Baptist is the first African American Church in Charlottesville. There he added many new programs and ministries; but is most excited about how God led him in the charge to significantly grow the church membership, eliminate the church debt and complete major renovations to three properties.
The author of two books "A Heart for God, Devotionals through the Life of David" and "Lessons from the Loveseat: God Hates Sex and Other Myths that Destroy Marriage", Pastor Hamilton expects to release his next two books "Marshmallows and Grit; God's Call for Perserverance and the Sweet Reward" and "From Paranoid to Parent Joy" a devotional for parents in 2018.
He earned his Bachelor of Science Degree in Law and Legal Studies from Morris Brown College, Atlanta, Ga. and his Master of Divinity Degree from the Virginia Union University, Samuel DeWitt Proctor School of Theology. His formal studies also include, Princeton Seminary Engle Fellow 2009, studies at the University of Alabama and Virginia Commonwealth University.
Among his accomplishments, Rev. Hamilton was blessed to establish the Rev. Dr. Fred G. Sampson and Rev. Dr. Lance D. Watson Preaching Collection at the L. Douglas Wilder Library in Virginia Union University; was a 1999 and 2000 Artishia and Frederick Jordan Scholar; and led a Martin Luther King, Jr. march, arm in arm with Georgia Governor Roy Barnes. He has also served as full time youth pastor at St. Paul's Baptist Church in Richmond, VA under the leadership of Pastor Lance Watson; and at the Second Baptist Church in Chester, VA under the leadership of Pastor Johnnie Fleming.
He is married to Rev. Khadijah Hamilton, M. Div.PMP. They are the proud parents of five children, Hodari Jr., Nehemiah, Grace, Kendra and Bennaniah.
Rev. Hodari Kenneth Hamilton has a call to equip and encourage God's people through God's word.
908-754-3353 Extention 121