Wendell Craig Woods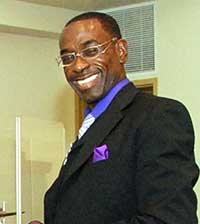 Pianist, organist, songwriter, and choir director, is the Minister of Music. A native of Houston, Texas, Wendell completed his elementary and secondary education there and attended the University of Houston as a Music Education major prior to relocating to New Jersey. Additional studies in general music, church music, and organ have been done at Westminster Choir College and Westminster Conservatory of Music, both located in Princeton, New Jersey. Wendell is currently enrolled as a Distant and Independent Adult Learning (DIAL) student through the Thomas Edison State College of New Jersey where he is satisfying the core curriculum requirements to receive his Bachelor of Arts Degree in Music. Privately, Wendell studied piano with Dr. Danny R. Kelly - Associate Professor of Music, Prairie View A & M University.
Wendell began playing the piano at an early age and has accompanied many gospel soloists and singing groups over the years. Most notable is the internationally acclaimed gospel recording artist, Yolanda Adams.
Wendell has served as adjudicator at many musical competitions for organizations such as the Leukemia Society of America. He is also very active with the Gospel Music Workshop of America where he serves as Secretary of the National Men's Council and Dean of the New Jersey Chapter. In 1994, Wendell was the 1st Place recipient of the Ed Smith Memorial Scholarship Award presented by the Rodgers Instrument Corporation at the annual convention of the Gospel Music Workshop of America held in Atlanta, Georgia. He has been the recipient of other awards and acknowledgments, too numerous to list here.
EMAIL: music@shilohplainfield.org
908-754-3353 Extension: 118