Rev. Brian J. Johnson
Minister of Church Life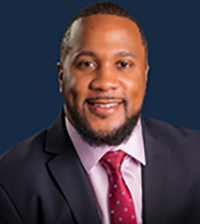 Reverend Brian J. Johnson is a native of Elizabeth, New Jersey. He is the husband of Associate Minister, Tikeisha Johnson, and loving father of four children – Seneca, Davion, Nyla Mae, and Jakayla Marie.
For most of his working career, Minister BJ, as the millennials affectionately call him, has held a managerial position in the manufacturing field.
Brian is a son of the Shiloh Baptist Church. He was licensed there to preach the Gospel of Jesus Christ on June 14, 2015. Currently he serves as Youth and Young Adult Minister. This entails giving support and leadership to children, youth of all ages, young adults and the College Ministry. He is also a member of the Men's Leadership Core Team, Christian Education facilitator, Usher Board Leadership Team, and Evangelism. Wherever there is a need, Brian can be found ministering and lending a helping hand.
He is furthering his religious education at Pillar College. His goal is to equip himself to preach, teach and lead Kingdom building successfully in this 21st Century.
To see men, women, boys and girls surrender their lives to Jesus is his passion and heart's desire. He also believes that the best leaders are those who faithfully embrace being servants unto God and others.
Reverend Brian says he stands on God's promises daily, along with his favorite scripture, Jeremiah 29:11 – "For I know the plans I have for you says the Lord. They are plans for good and not disaster, to give you a hope and a future.
EMAIL: BJohnson@ShilohPlainfield.org